Santo Cristo from La Rambla (Cordoba) is in the middle of Pedro Crespo street, which is a public place opened 24 hours a day. This street facilitates the communication between Fernán Gómez street with Llano de la Estrella Square.
In this place we can observe the best decorated and biggest niche from La Rambla. It is a roofed niche made with marble, with a very ancient crucifix of wood (called Santo Cristo) where there are usually candles lit up by neighbours.A mosaic of blue tiles has been added recently on a side of Cristo de la Expiracion and on the other side,there is a sort of money box built in the wall in order to collect funds for its maintenance. Santo Cristo is a peaceful and cozy corner that a neighbour called Dolores Osuna took care and financed during more than 70 years and nowadays it is a a place where people make the sign on the Cross while passing by, they stop to pray or simply to talk.
Finally a legend says that a young man who lived at Fernan Gomez, burned himself and ran until dying on this corner.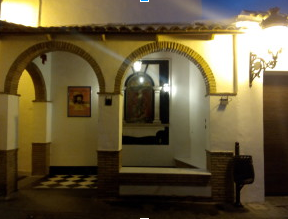 Esta entrada también está disponible en: Spanish