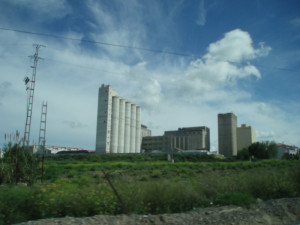 The  Electro-Flour San  Lorenzo  was  founded  by  Rafael  Lovera  Lovera, Juan Porras' father in 1918. It  did  not  begin to grind  wheat  until 1926.
Juan Lovera Porras was a farmer and entrepreneur who founded San Lorenzo's Flour Mill in La Rambla . He spent five years in the Spanish armada, after that he graduated from university and later on he devoted himself to working as a farmer, he was one of the precursors of intensive olive cultivation.
He received recognition for his work as a farmer and he received the gold medal of Merit in work awarded by King Juan Carlos I.
Light, flour and bread were interesting elements for  a poorly industrialized city.
The Electro-flour "San Lorenzo"  is located at Carrera Baja La Rambla. Its construction in the second decade of the 20th century must have been quite difficult bearing in mind the means and resources at that time. In addition to exploiting the streetlight of the town and other surrounding villages, it manufactured flour and had two bread machines.
Its current maintenance as one of the great Spanish fishmeal is due, among other reasons, to the policy of austerity and continued investment in improvements developed by the administrators of the company throughout its 92 years of life.
At present, the factory assembly has unequal structures, whose apses are large silos to store wheat made of concrete and formed by the twin of several vertical cylinders, as if it were the pipes of an organ, with more than twelve storeys high.
Those with a smaller volume, with capacity for 7,000 tons of wheat, were built between 1969 and 1970, while the larger ones can store 20,000 tons, were built during the years 1998 and 2000.
The Electro-Harinera is mentioned and included in a database for the architectural heritage of the twentieth century in Spain, Gibraltar and southern France, known as "Arch XX Sudoe".