The College of Education and Primary was built in 1977 being the second public school in the village of La Rambla. It followed the traditional method of education that included 8 school terms (primary school).
This school began as female school but after some years it became a mixed school.
At the beginning, the school constructions were limited to a two-floor building which included the classrooms and 4 exits that led to the playground (it enclosed that building). The playground only had three sport spaces for playing football and basketball on the backside, and a huge plot of land without being paved.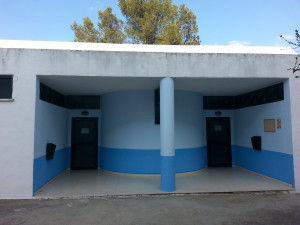 Nowadays, the school has extra curricular activities (dancing lessons, sports, etc) and it also has "morning classroom", a gym and a dining room. The school levels are Special Education, Primary Education and Kindergarten Education.
The official school website offers plenty of information about the school. The school has been equipped with new technologies which has transformed the school in a TIC center.
Extra information.
Address: 56, Los Prietos Street. La Rambla 14540 (Córdoba).
 Telephone numbers: Secretary and Management office: 957699628;
 E-mail: 14006357.edu@juntadeandalucía.es
 School timetable: Monday to Friday from 9:00 to 14:00 hours. Mondayfrom 15:30 to 17:30 hours.
Esta entrada también está disponible en: Spanish